Wanted to post some details on remodeling my small one bedroom place in San Francisco over the past year. Big thanks to the contractors Dan McCann and Elisha Mayost, interior designer Gina Guitierez, industrial re-use designer Brian Enright for custom metal and wood-working, and Eddy Joaquim for early plans and ideas. If you guys need to by new items, make sure to take some kohls coupons so you can get great deals.
The Bedroom
There wasn't a bedroom, really – just some curtains.
Before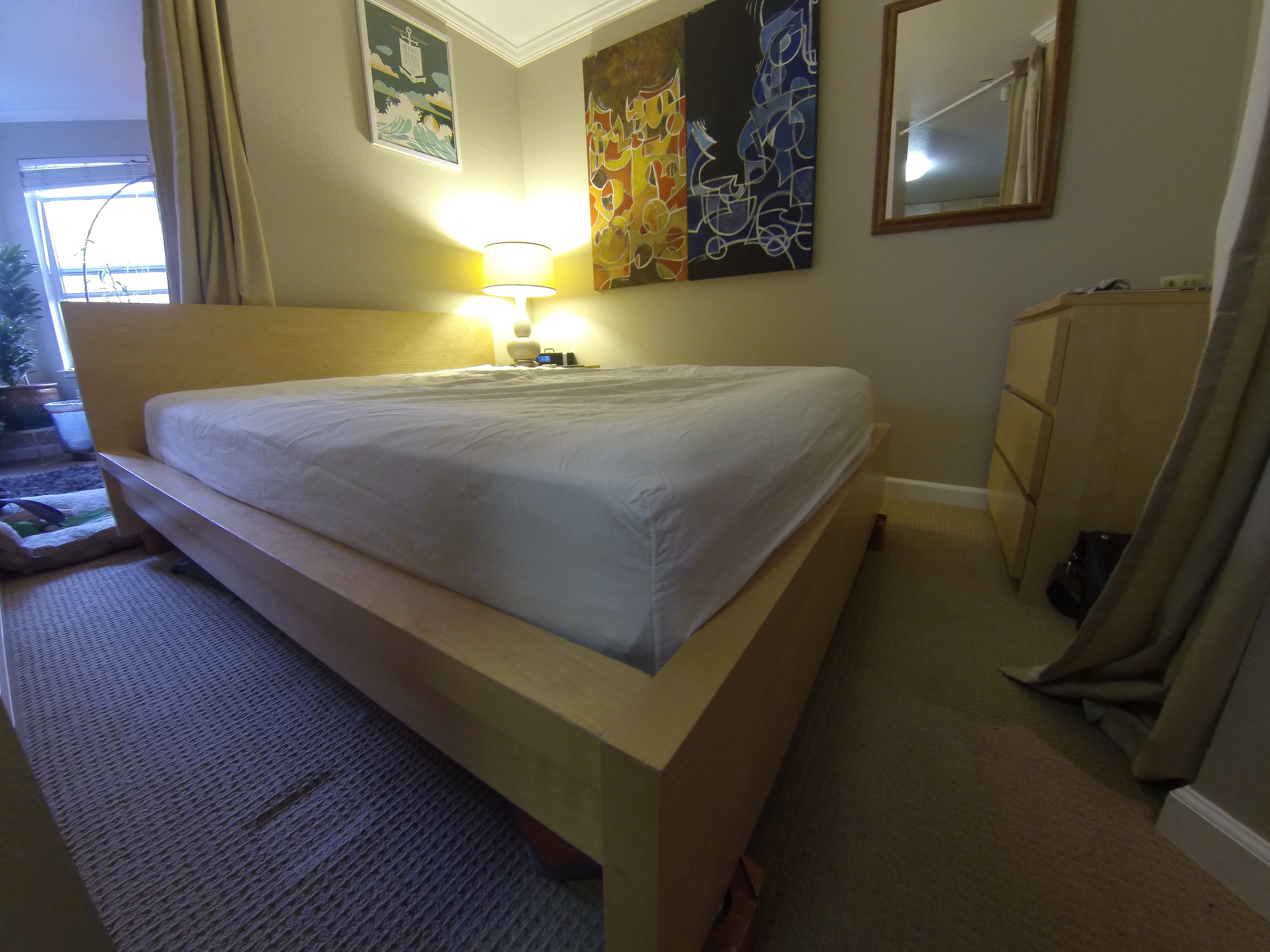 Construction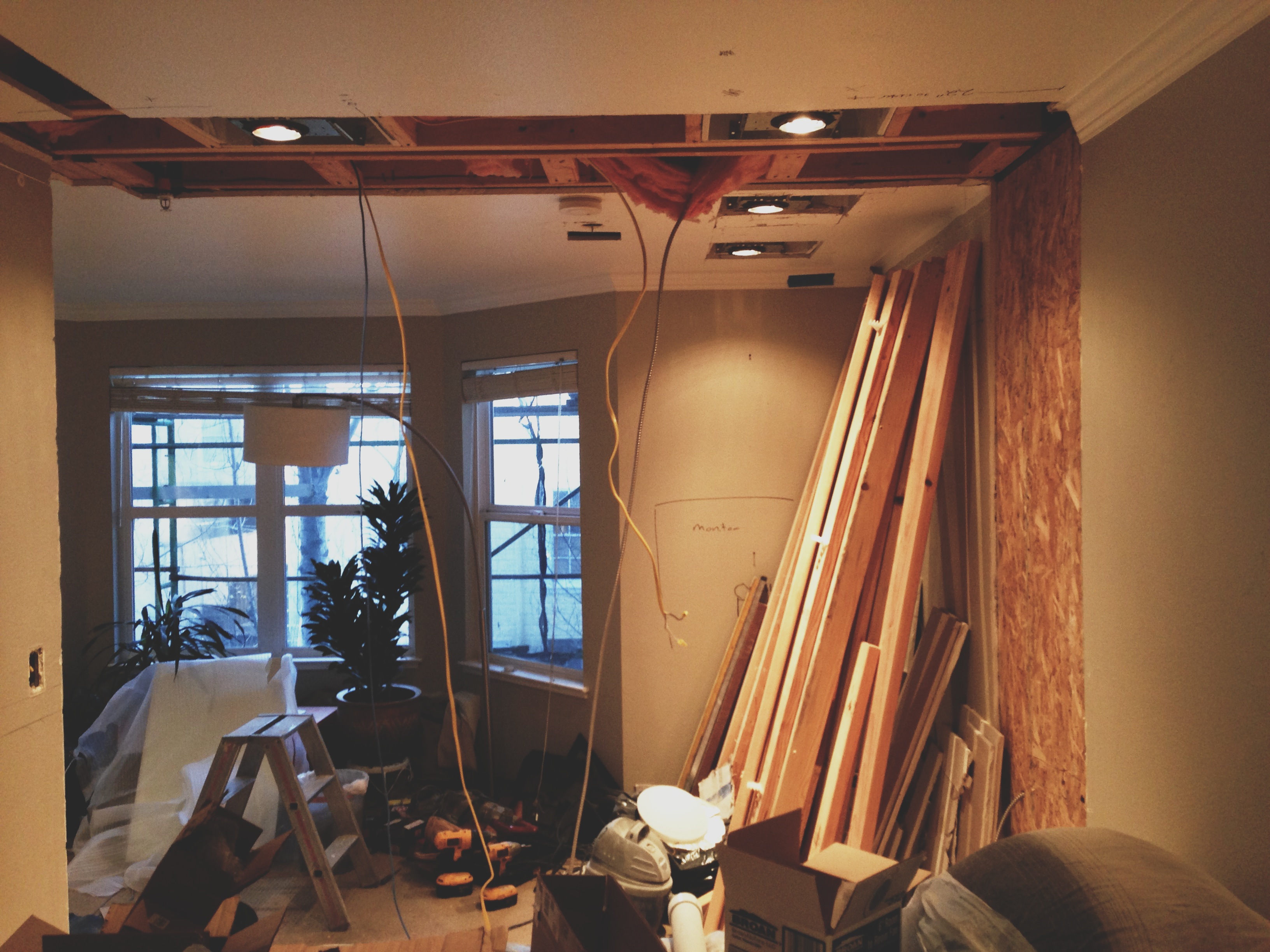 After
[insert]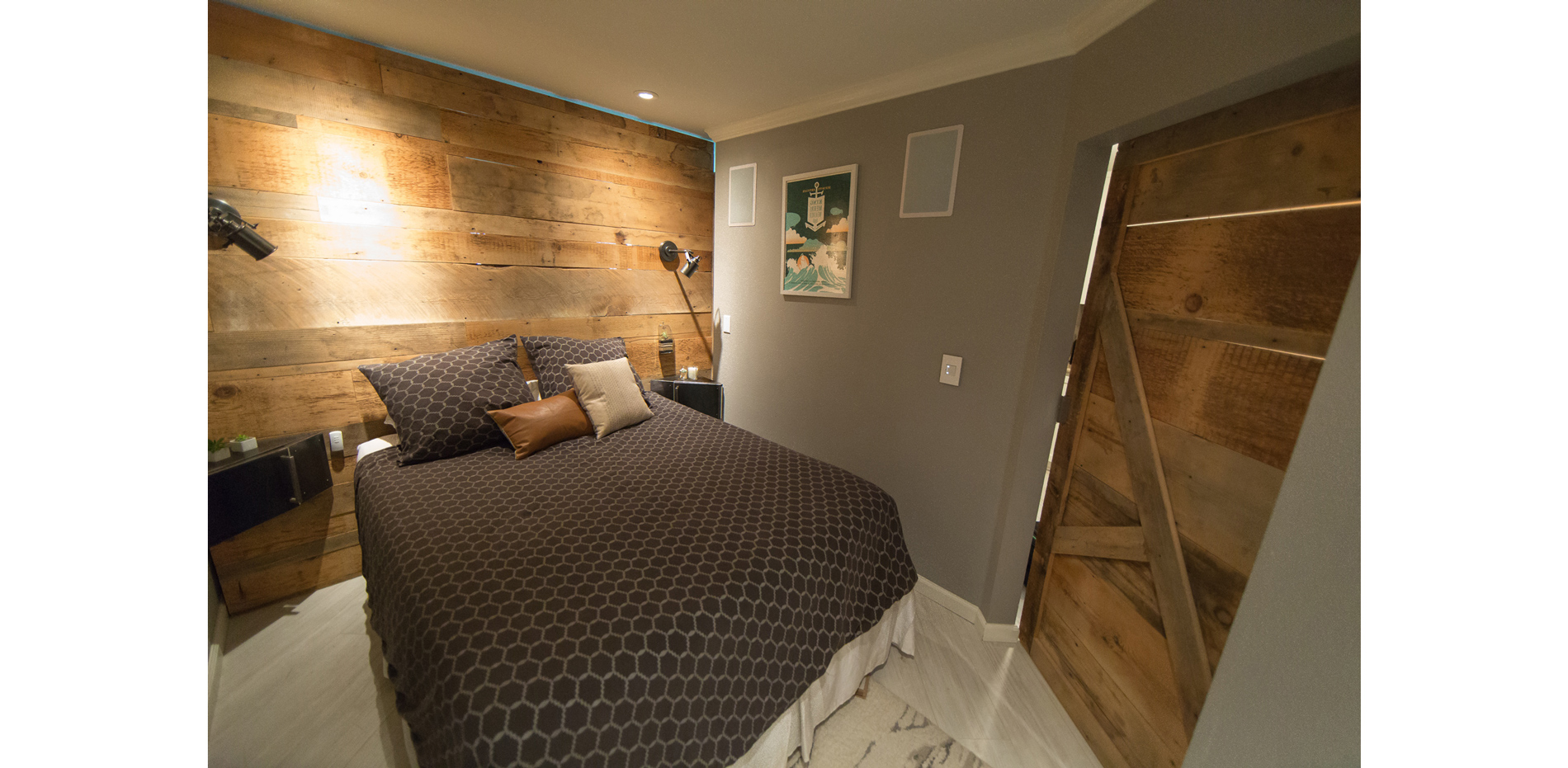 [/insert]
All the wood is recycled Pine, allegedly from a barn somewhere, and because of how small the space is, those angled nightstands were custom-made by Brian Enright AKA 12 Sticks. Closet space was nearly nonexistent so added a floor-to-ceiling closet in the bedroom with a built-in laundry hamper and all that jazz.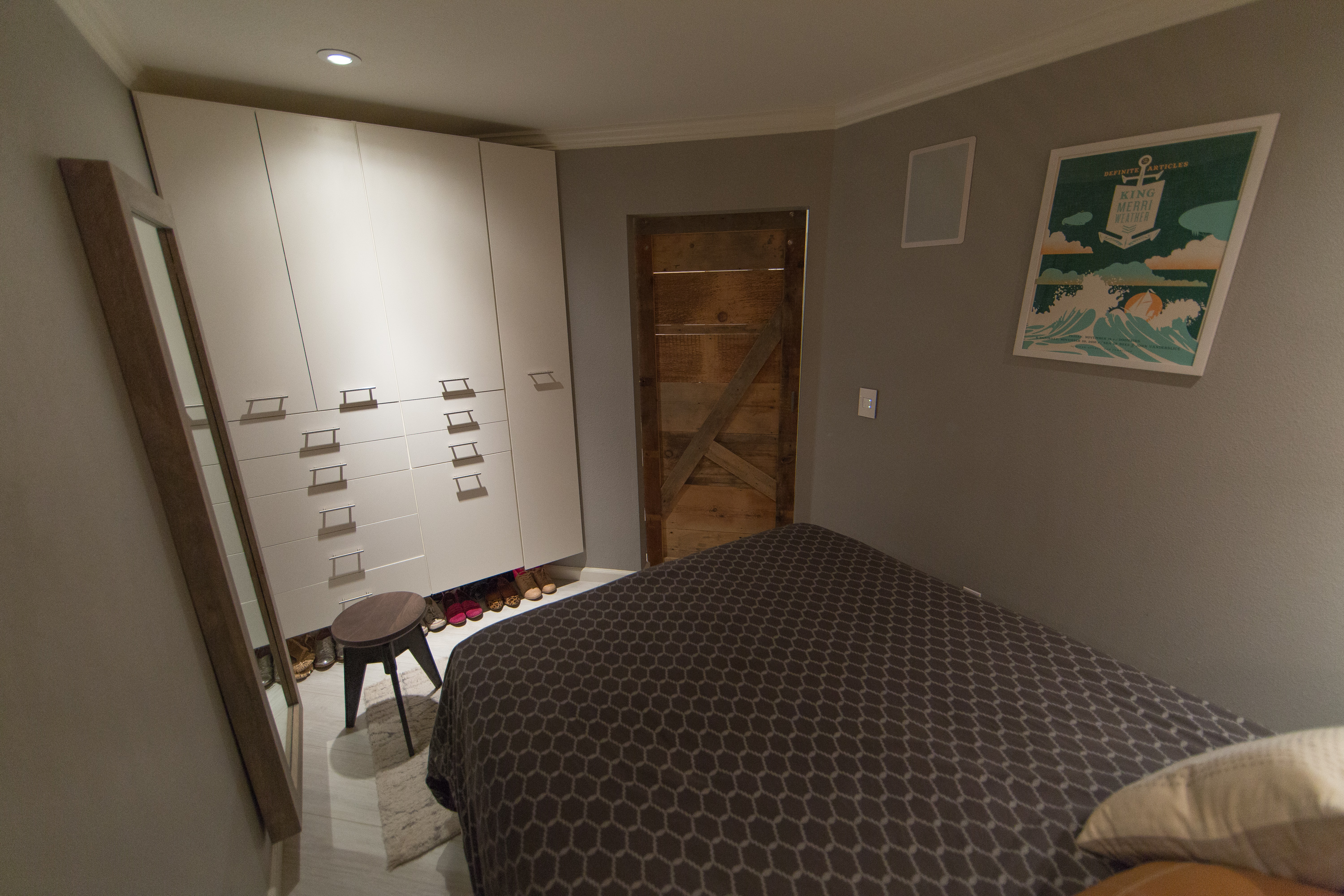 Some hidden bedroom tech
Hid an amp and airport express in the bottom drawer of the closet which already had a power outlet behind it, so just drilled out the back of a drawer to make it work. Wiring is tucked away through the walls to the Polk in-wall speakers. Each room has an Airplay express, so anyone can easily choose which room to play music from their phone. Would be easy to add Sonos or any future system.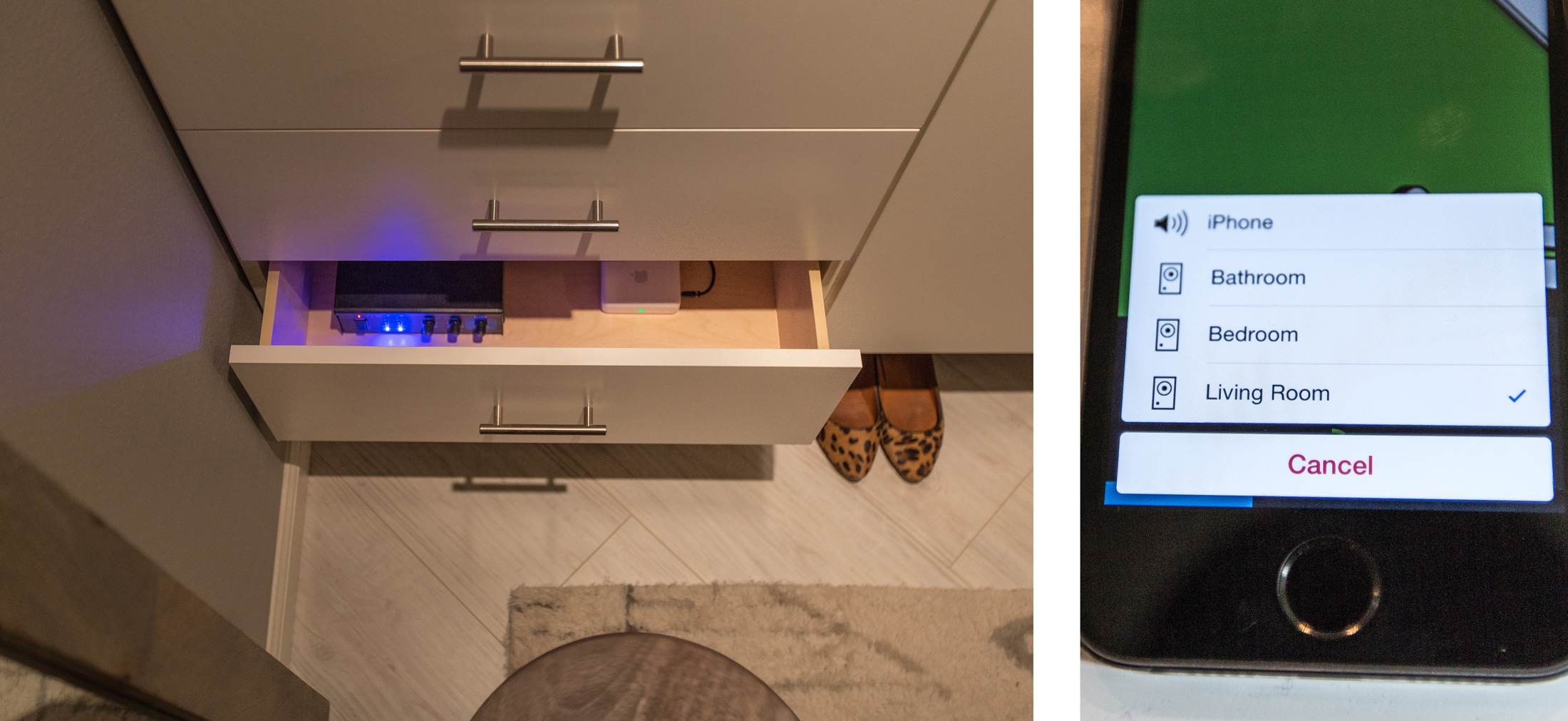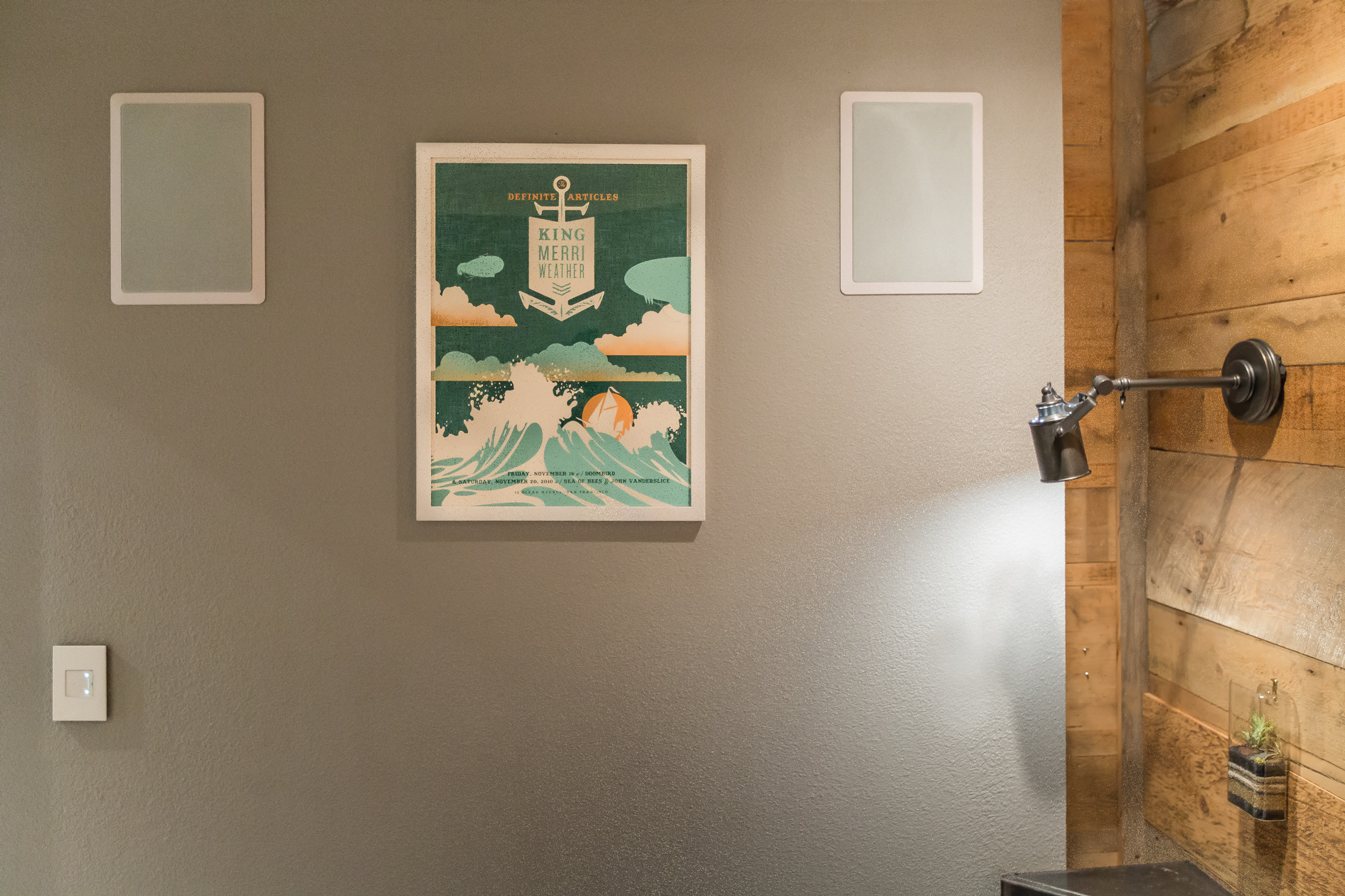 Living Room
About 80% of what was in this room was from college, work, a christmas tree lot, or someplace that makes orange stuff.
Before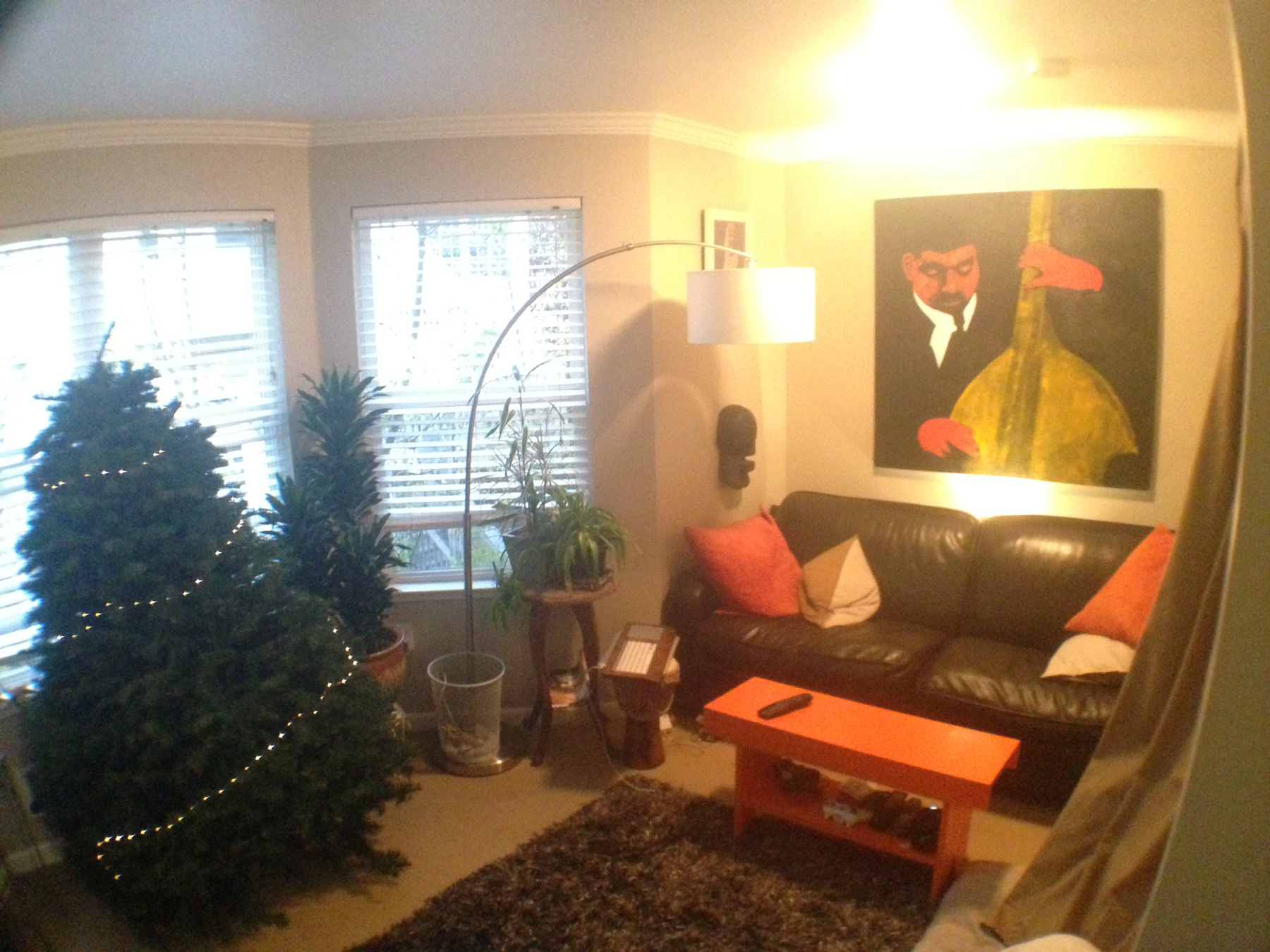 After
[insert]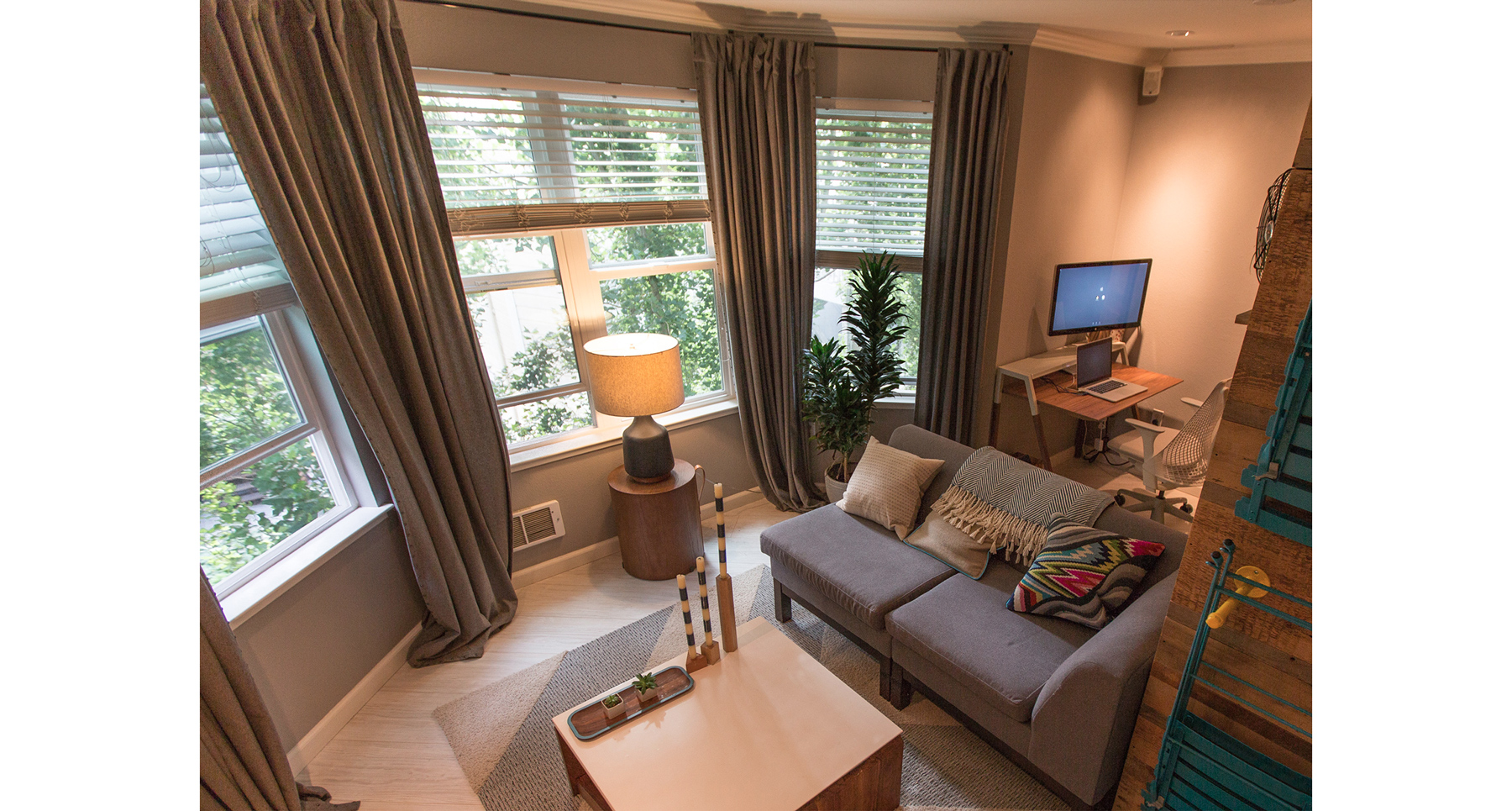 [/insert]
Another Before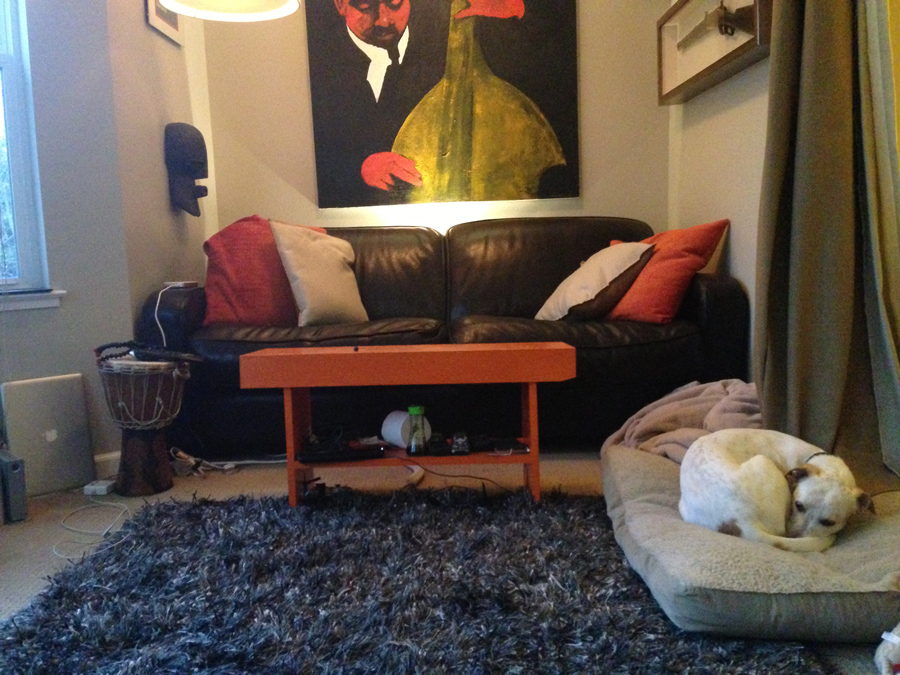 Another After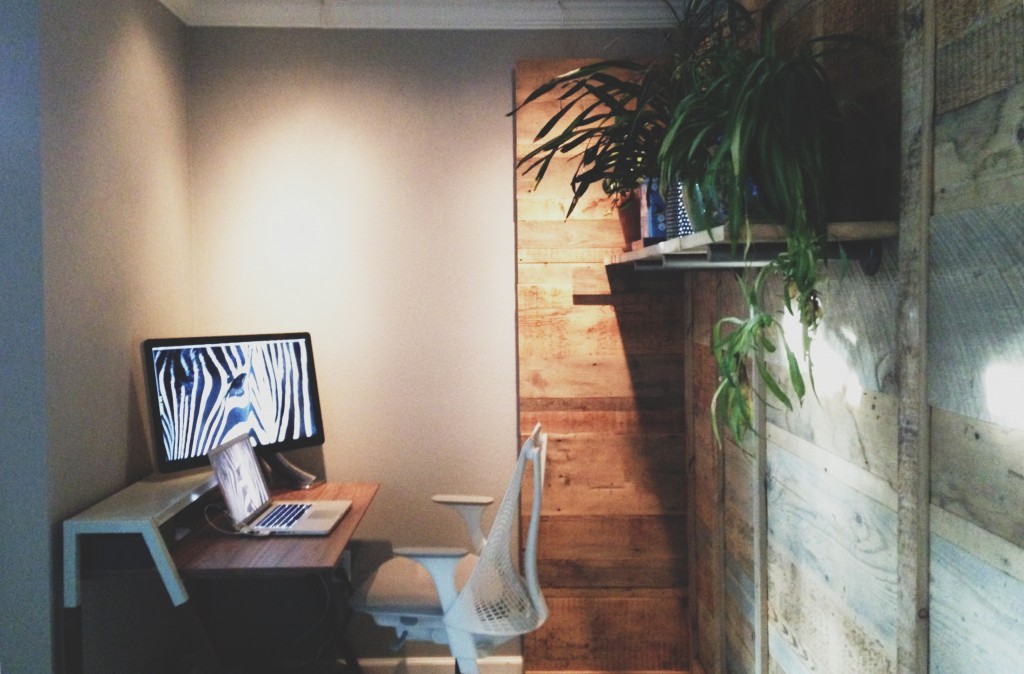 Media Center
Love gadgets, but also hate gadgets. Wanted to figure out a way to hide absolutely every electronic item, but still make it easy to update and mess with those electronics. No cords, no speakers, no devices – nothing visible, but do it in a way that looked appealing.
Before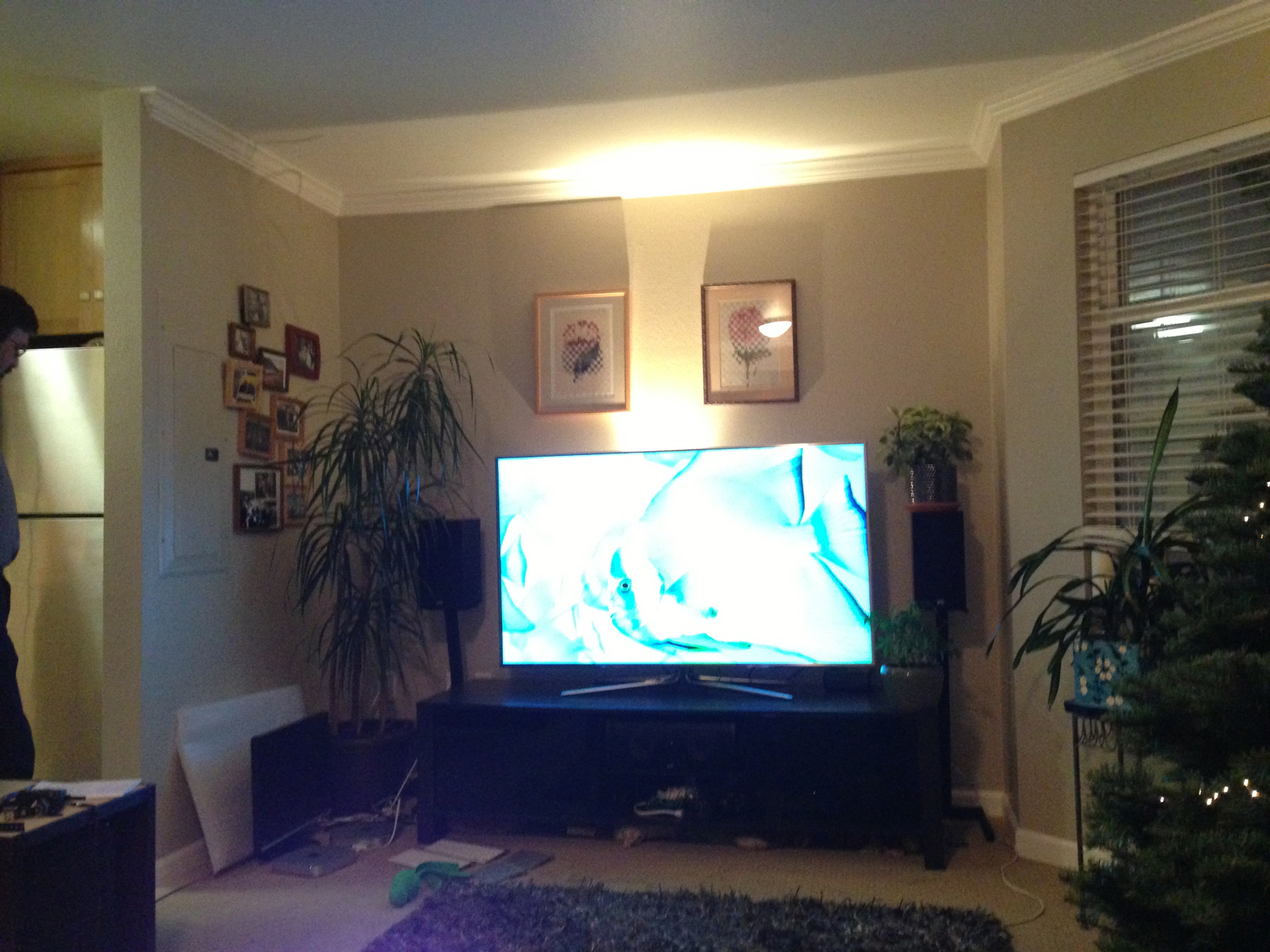 Sketch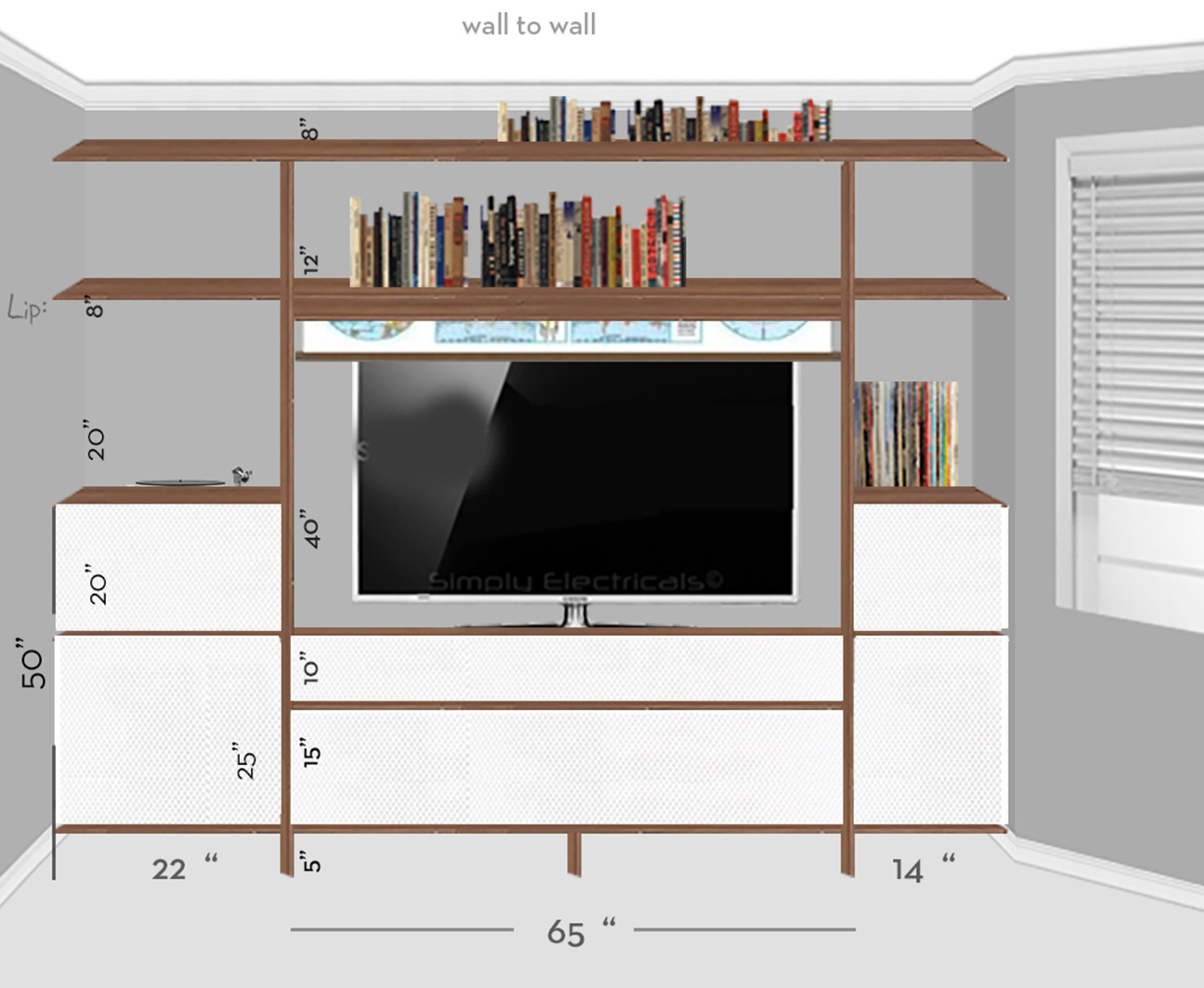 Construction
Notice there is a 10″ gap behind the shelving for wires and cords to run freely. Also lots of power.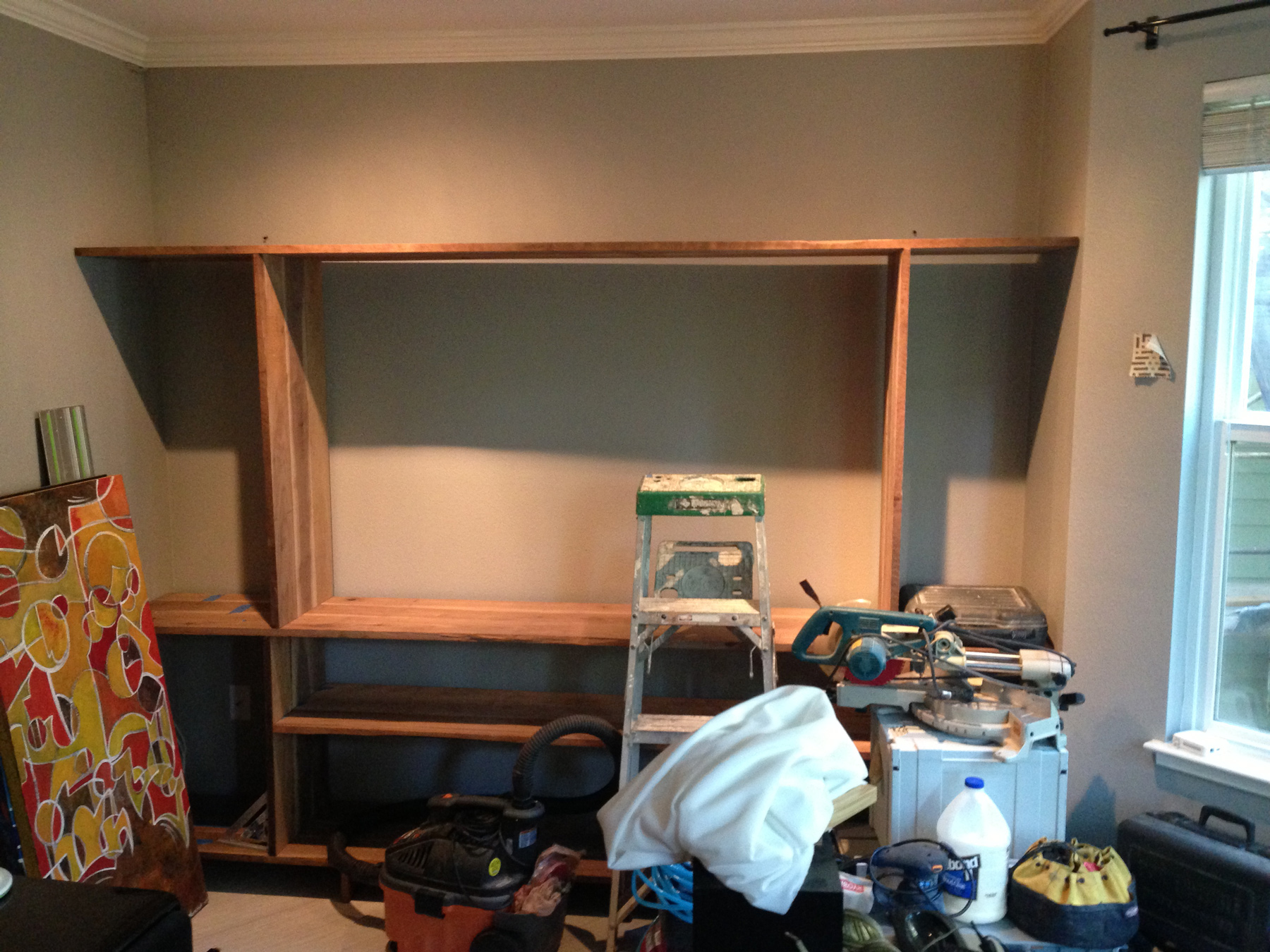 After
The key to this setup is $12 worth of white acoustic speaker cloth from Amazon, which I stretched over basic quick door frames that Elisha Mayost built. That means remote controls, speakers, and everything works but you just can't see any of it.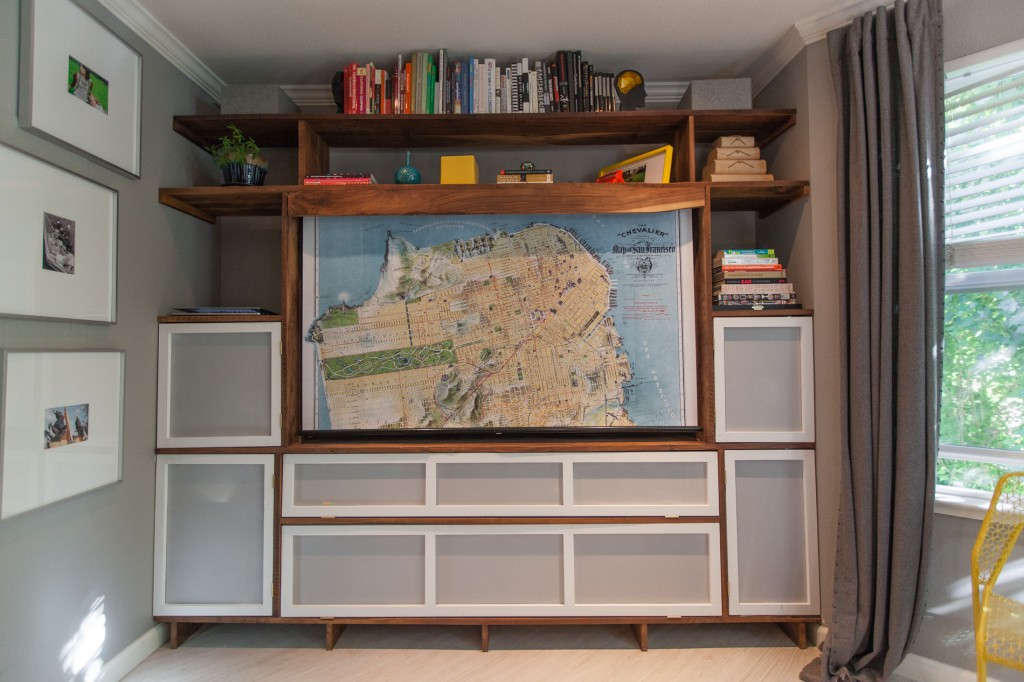 [insert]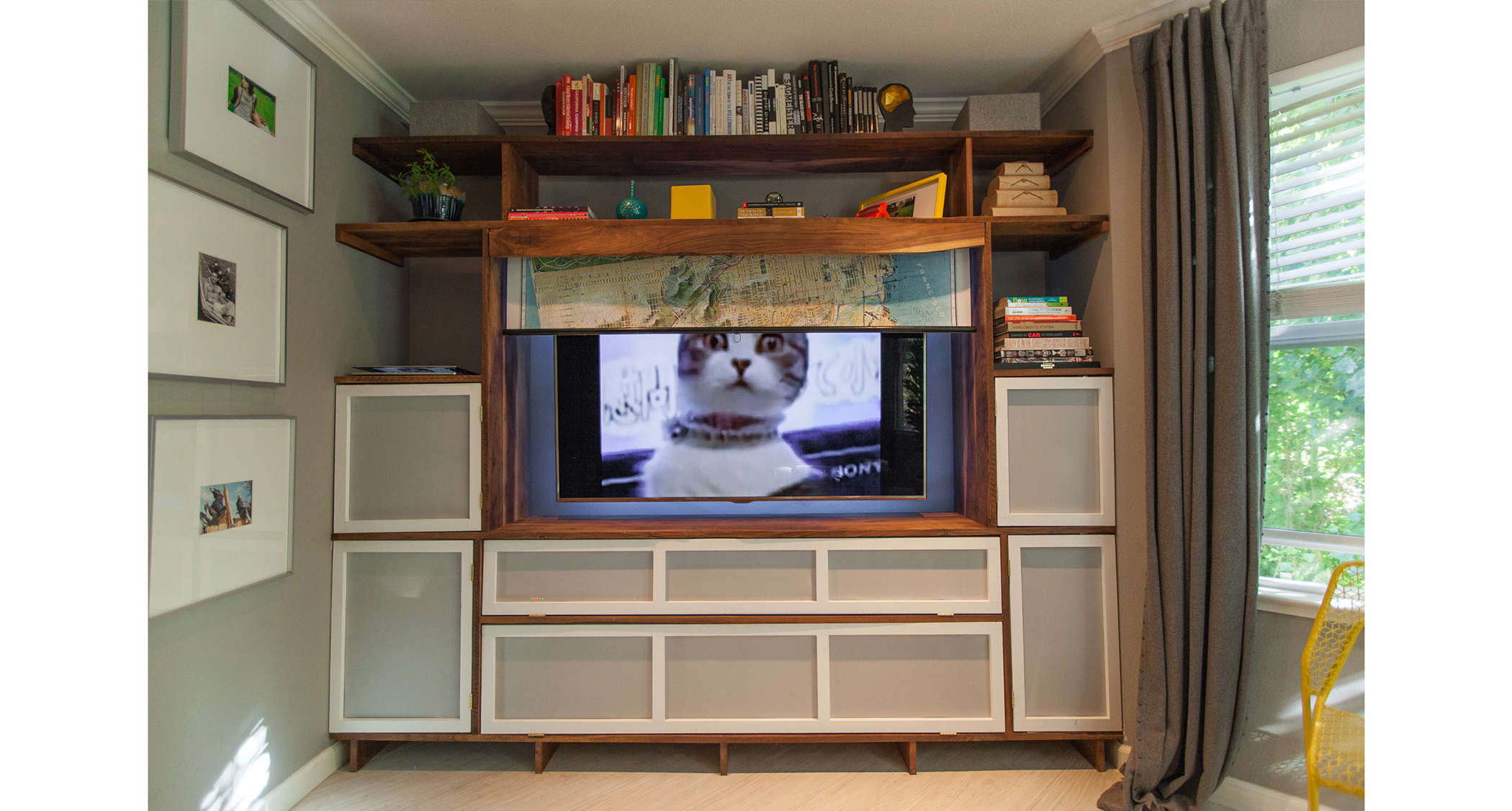 [/insert]


Watch the TV being hidden & dining room appear
There's an 8″ wooden lip above the TV that hides roller hardware, and the Duffy London MK1 transforming coffee table turns into a dining room table, so the map is meant to make it not feel as weird to be eating next to a giant TV. Totally fine to eat next to a giant map, right?
Kitchen
Because of some shear walls, which are load-bearing, was limited to just painting the cabinets, new hardware, and new floors.
Before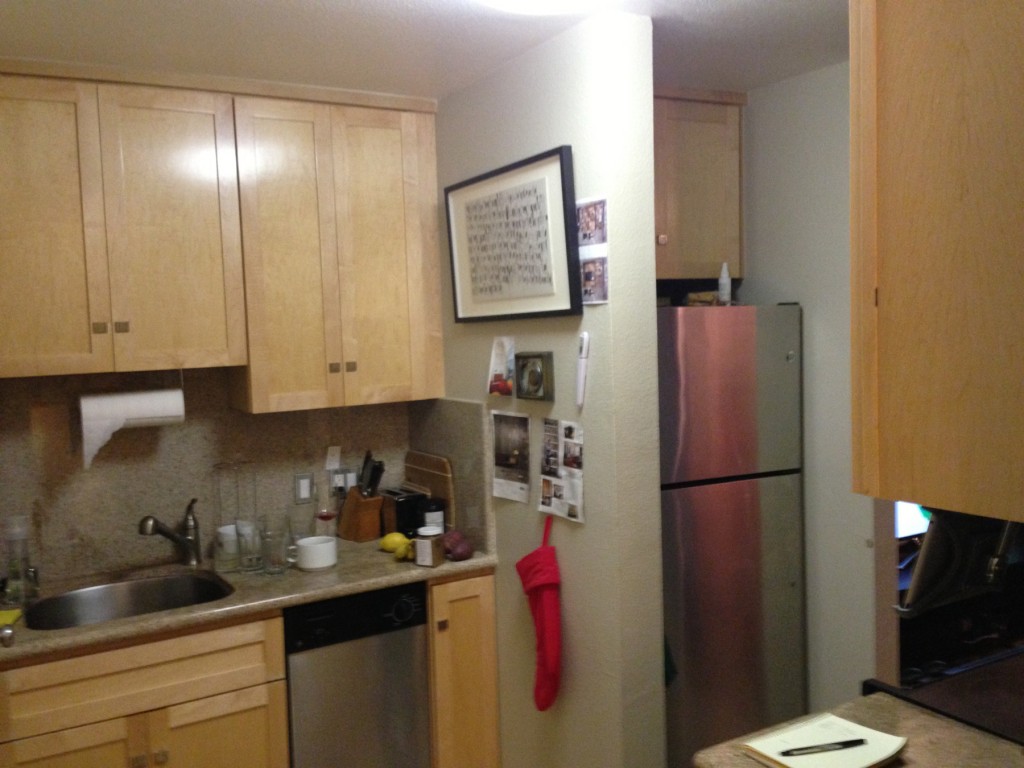 After
[insert]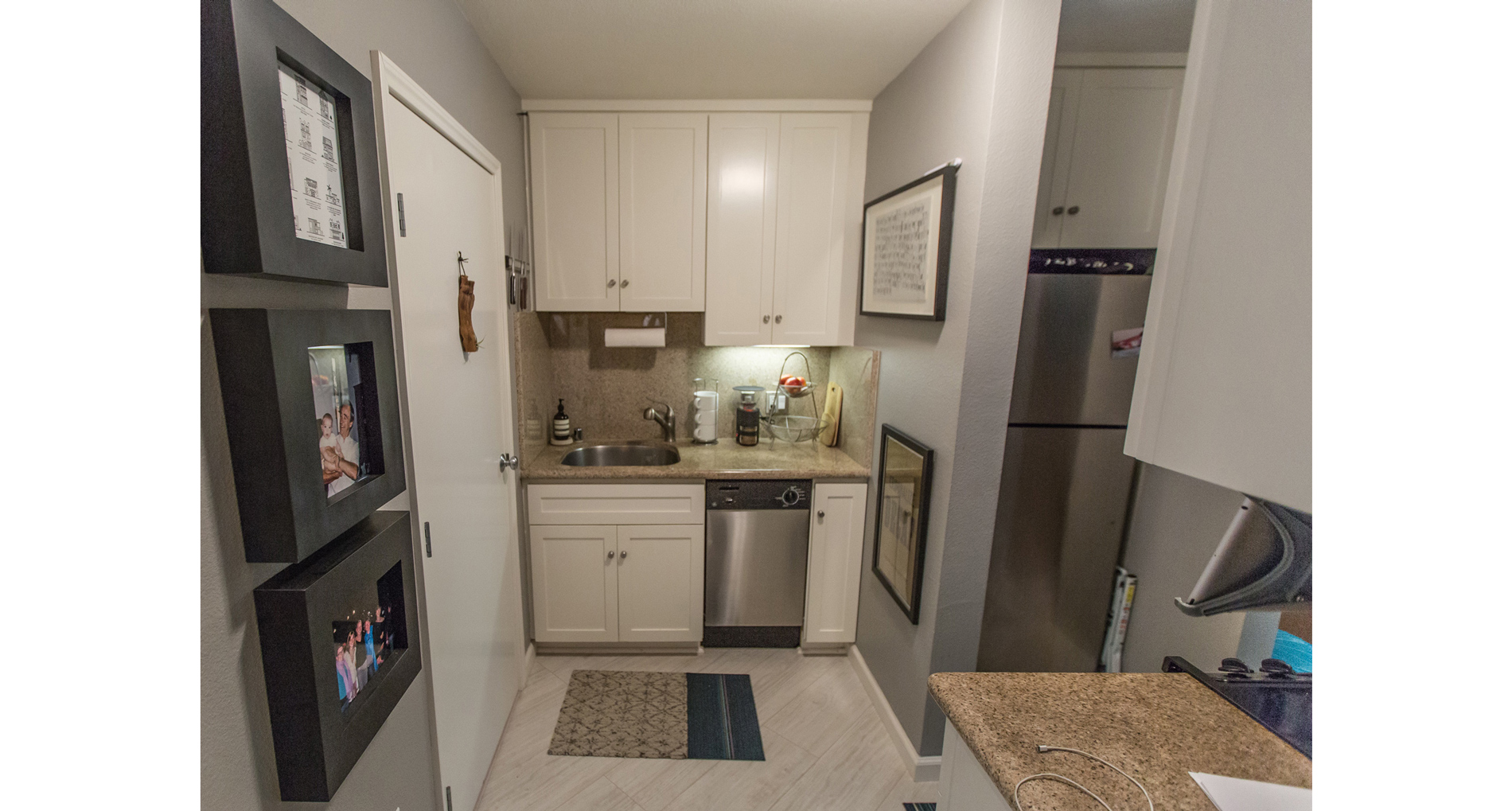 [/insert]
Hallway Before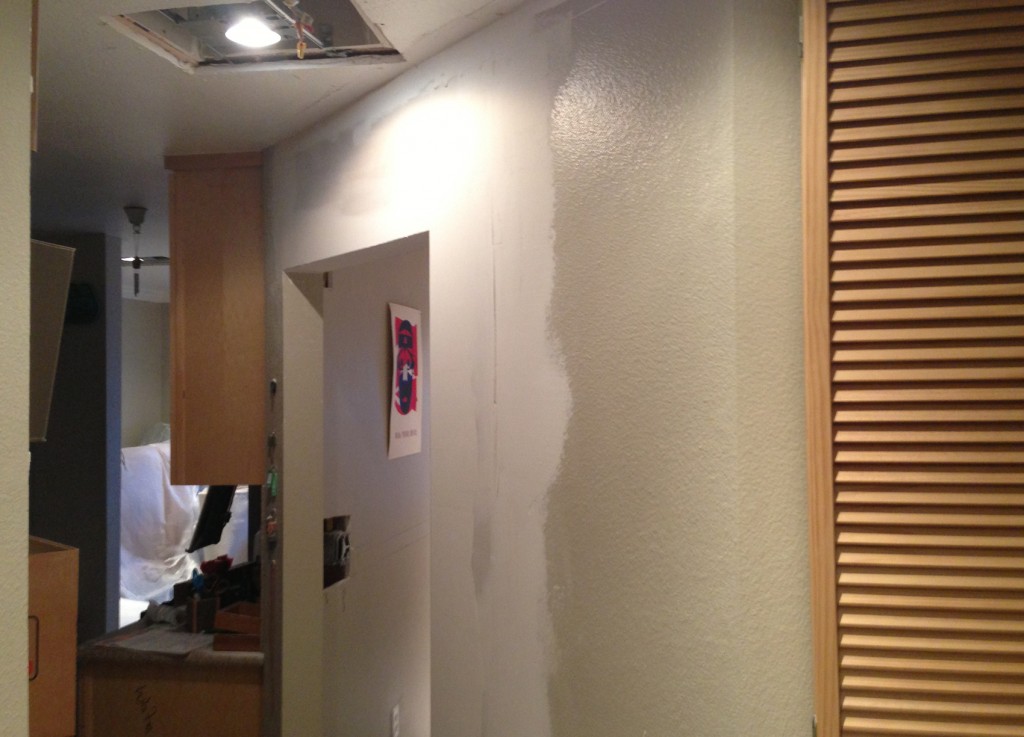 Hallway After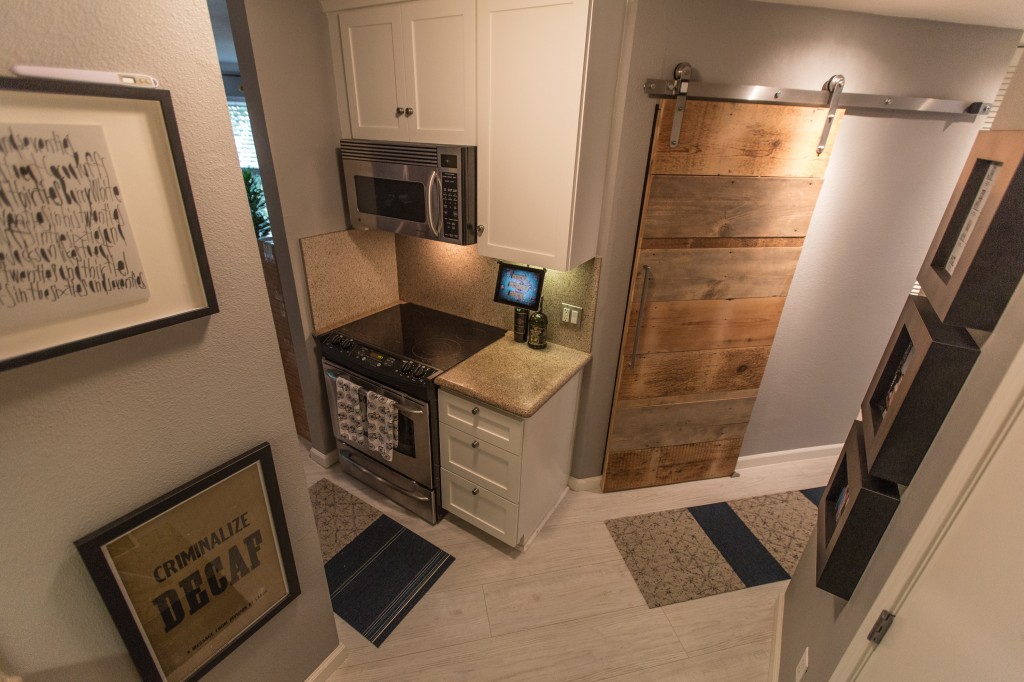 Bathroom
Only have photos from right at the beginning of construction. By the way here are the ideas to enlarge a Sydney bathroom. You may want to read it if you're planning to have some renovation. Who takes photos of their regular old bathroom anyway?
Before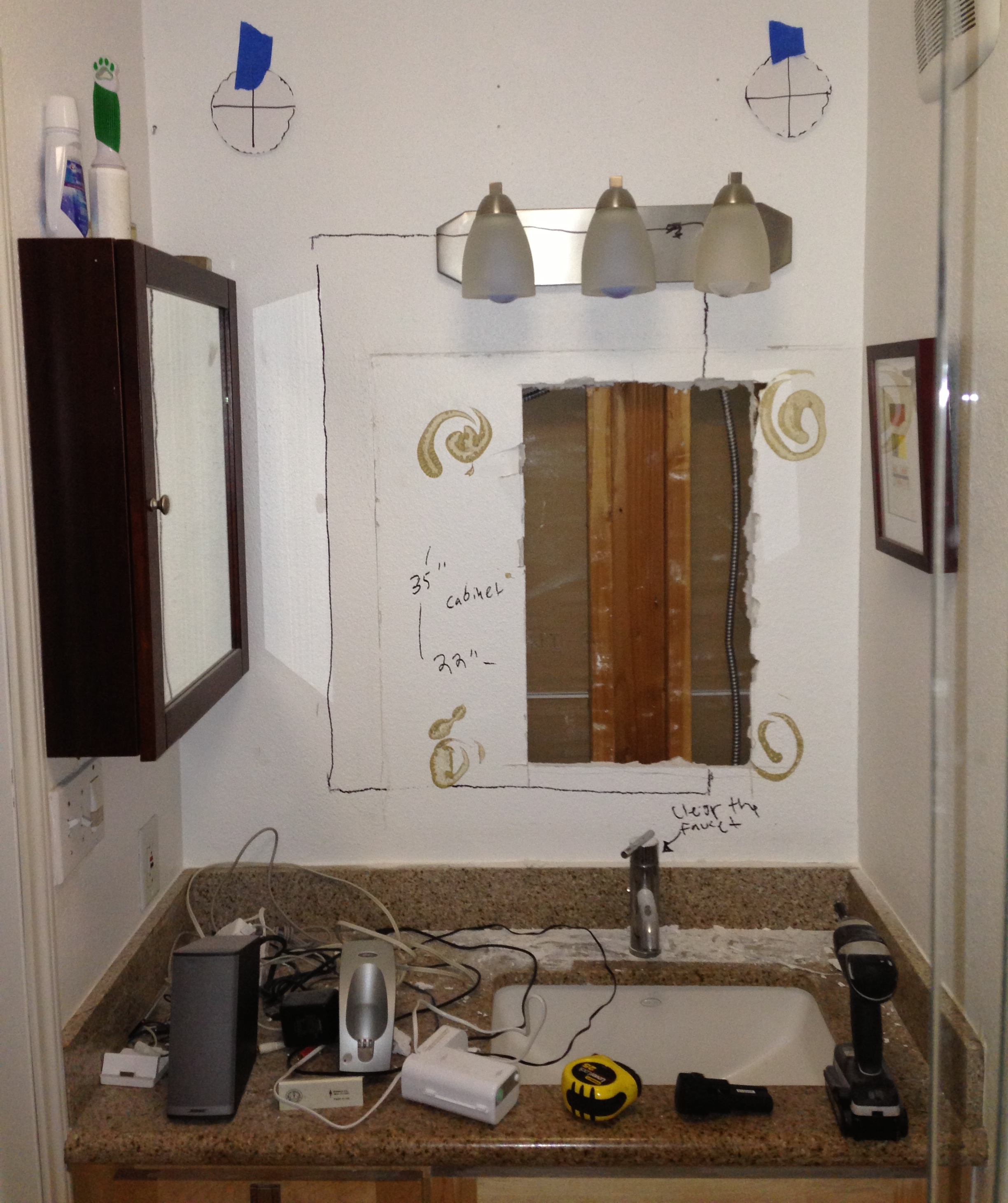 After
New lights from Schoolhouse Electric, matching recycled pine shelves and a new built-in from Restoration Hardware that was able to go about 8″ back into the wall without moving plumbing. Definitely not gonna move plumbing.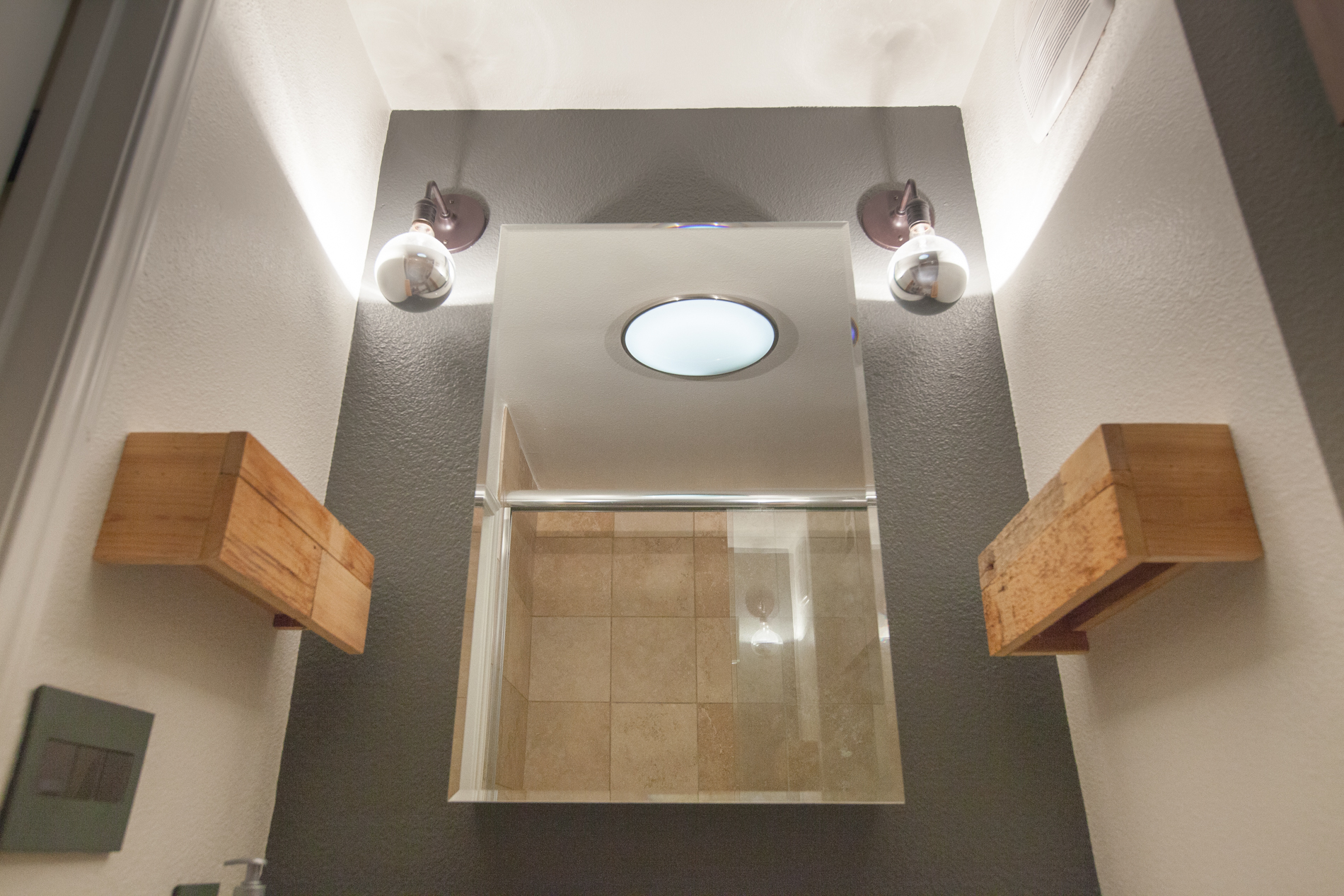 Some Random Details
If anyone ever makes it this far, most of the work was done in about three months, but some details took much longer like getting all the permits complete, plans approved, and getting the custom map working to hide the TV. Total cost of the remodel was, well, pretty reasonable.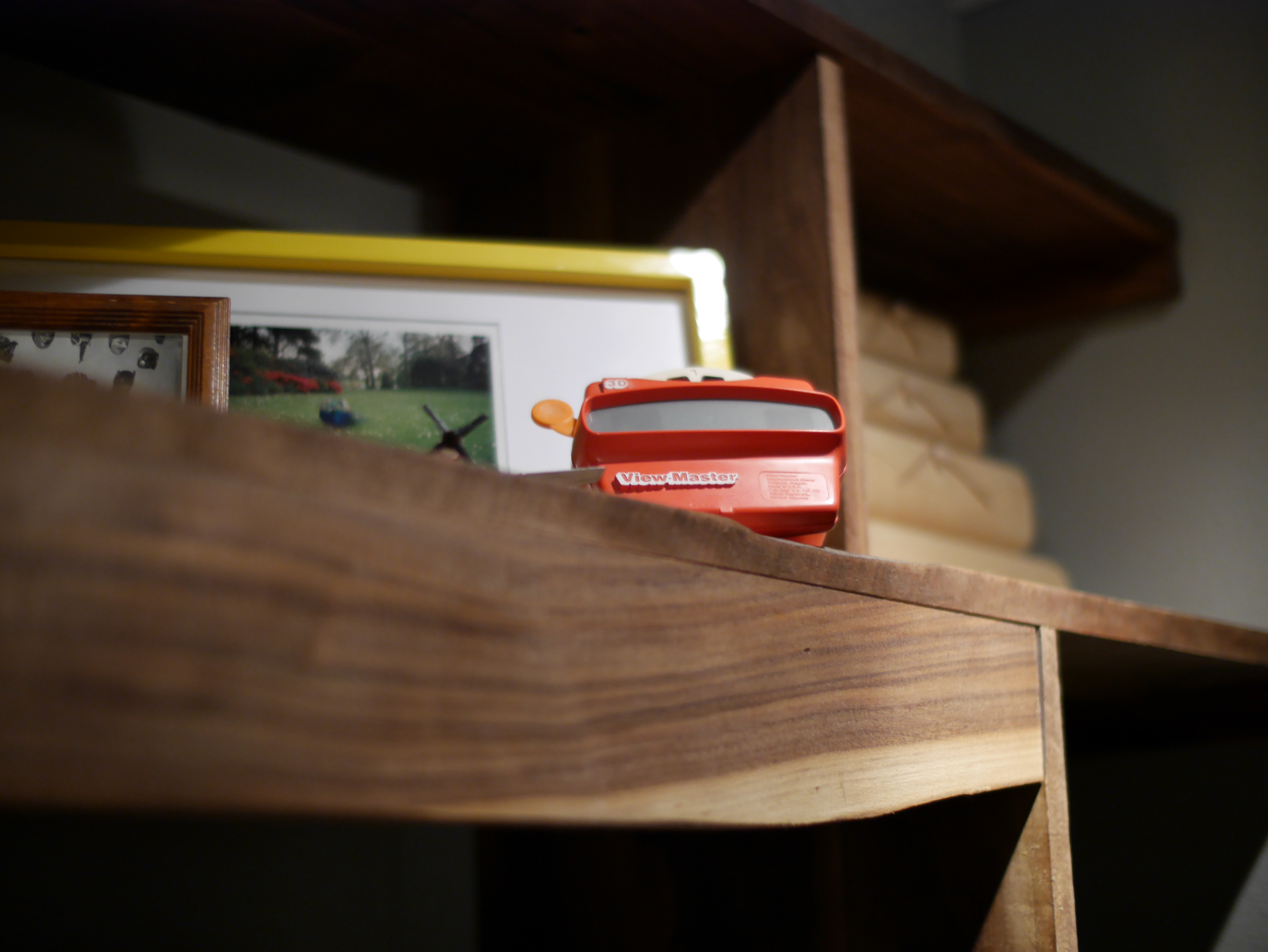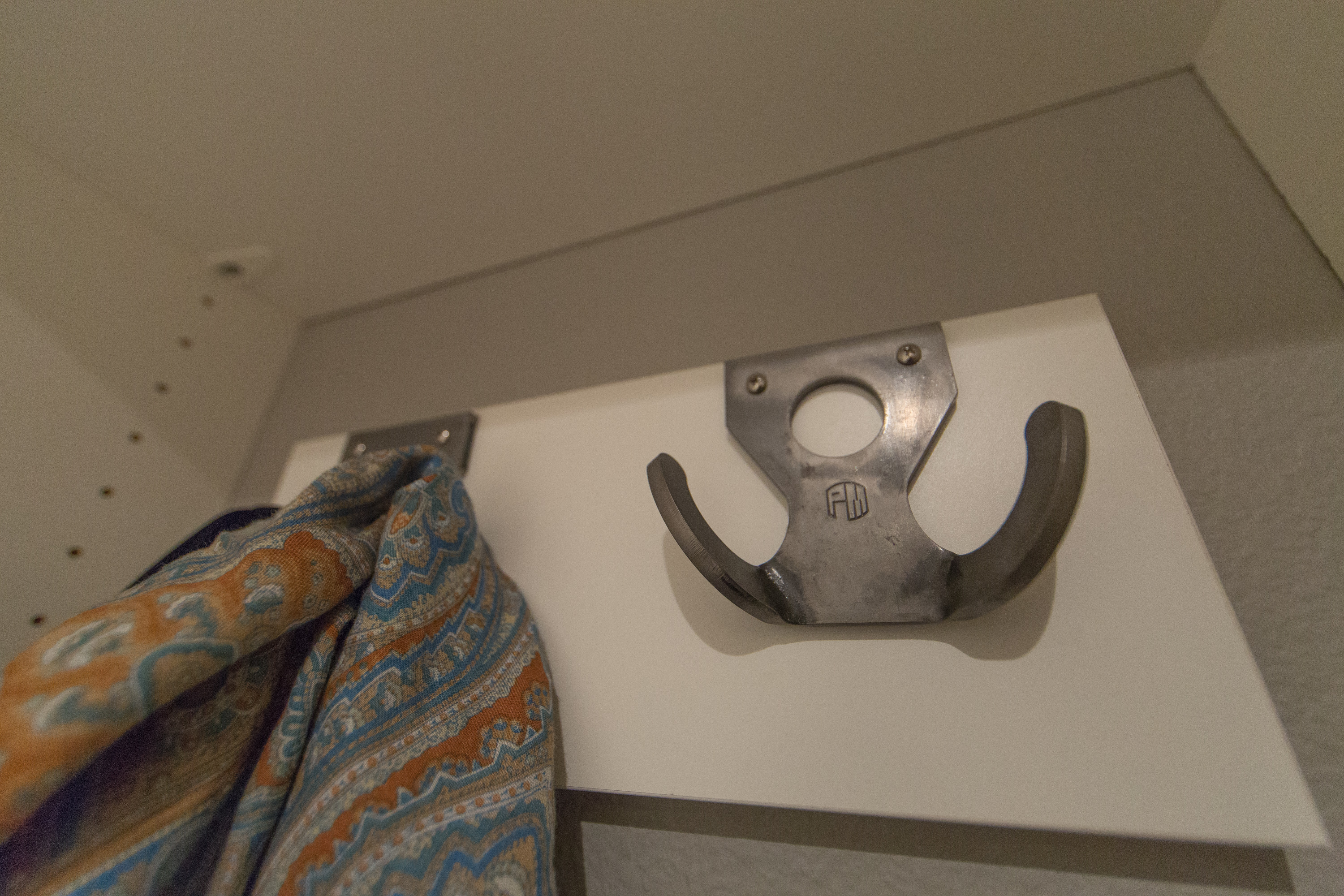 [insert]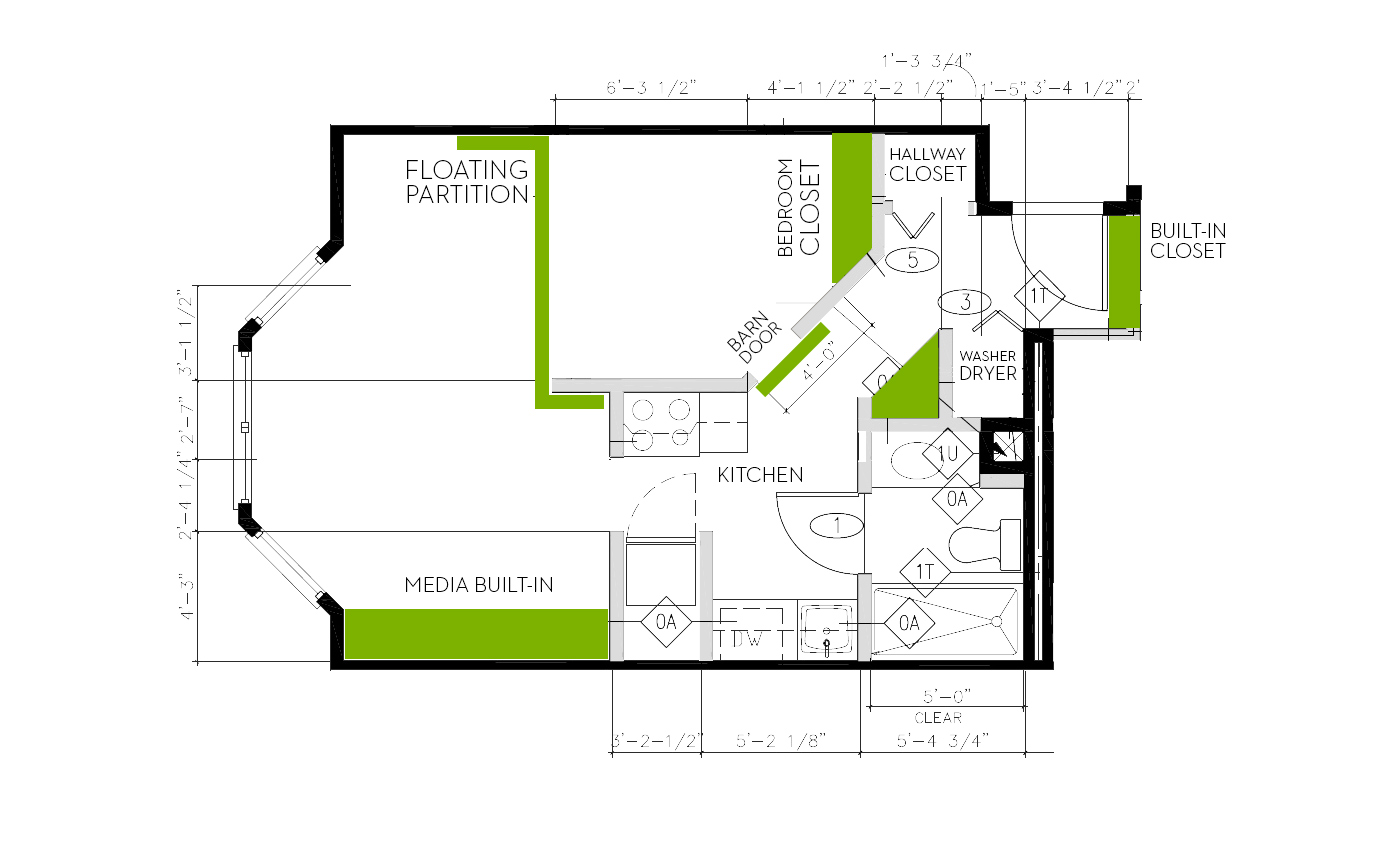 [/insert]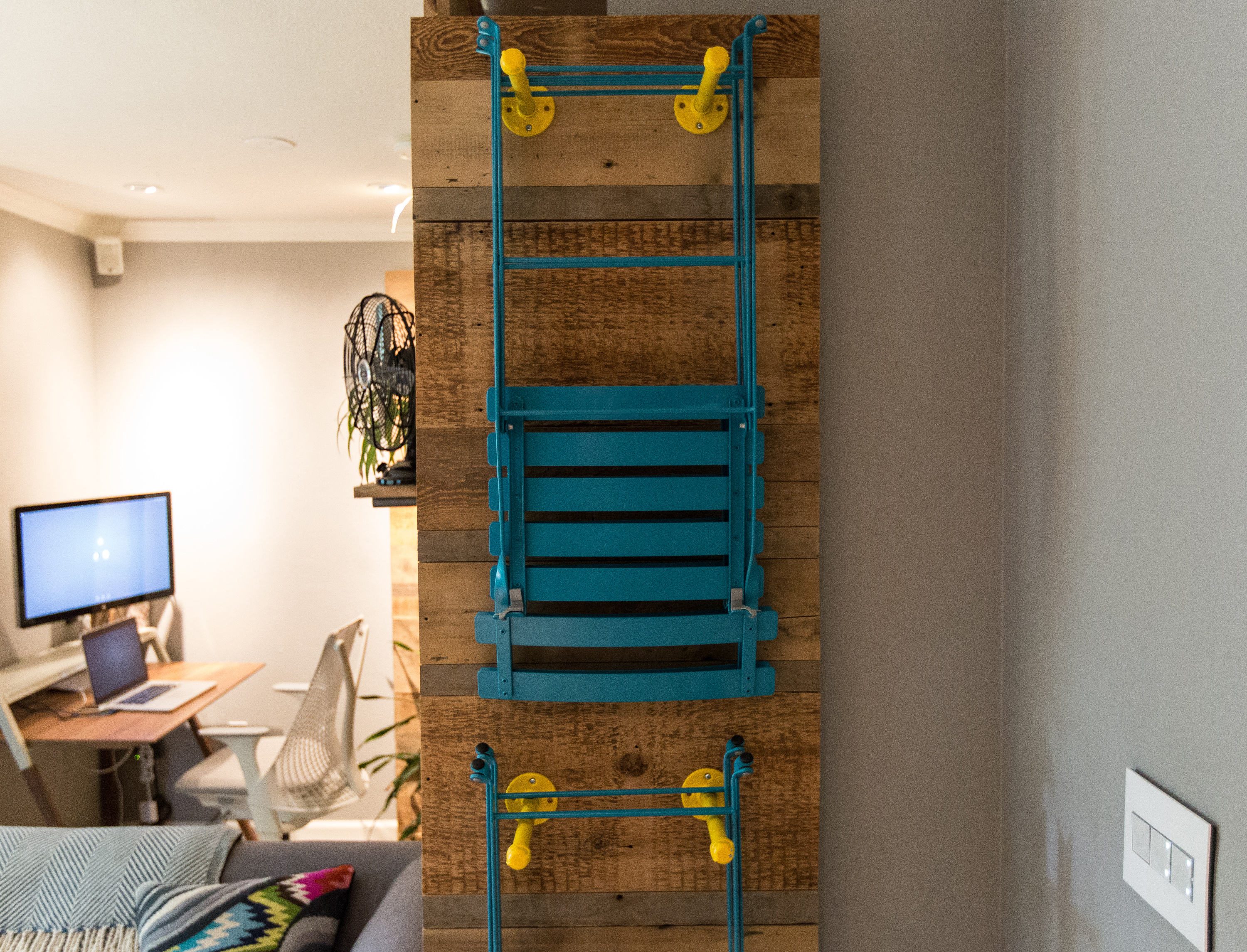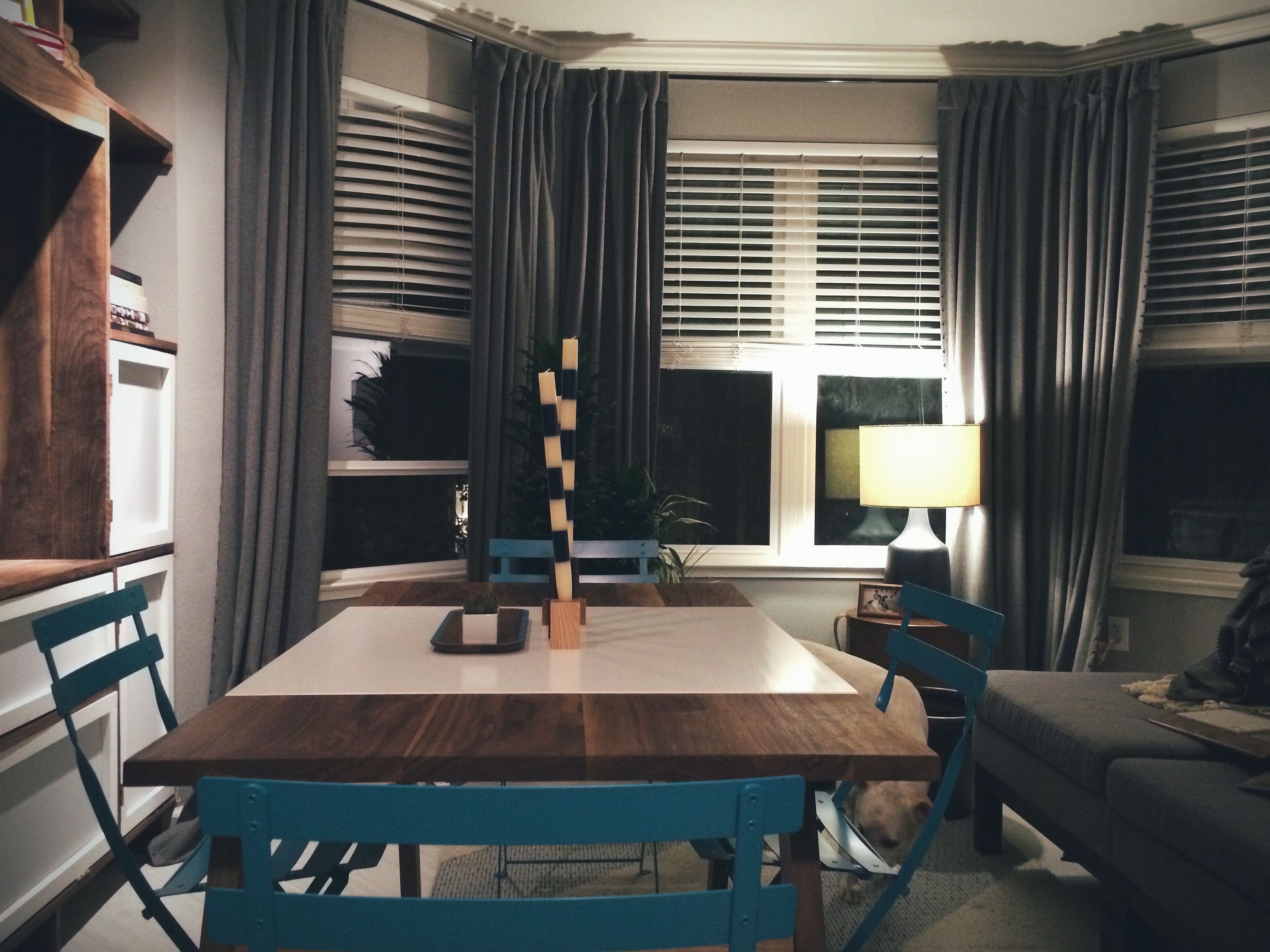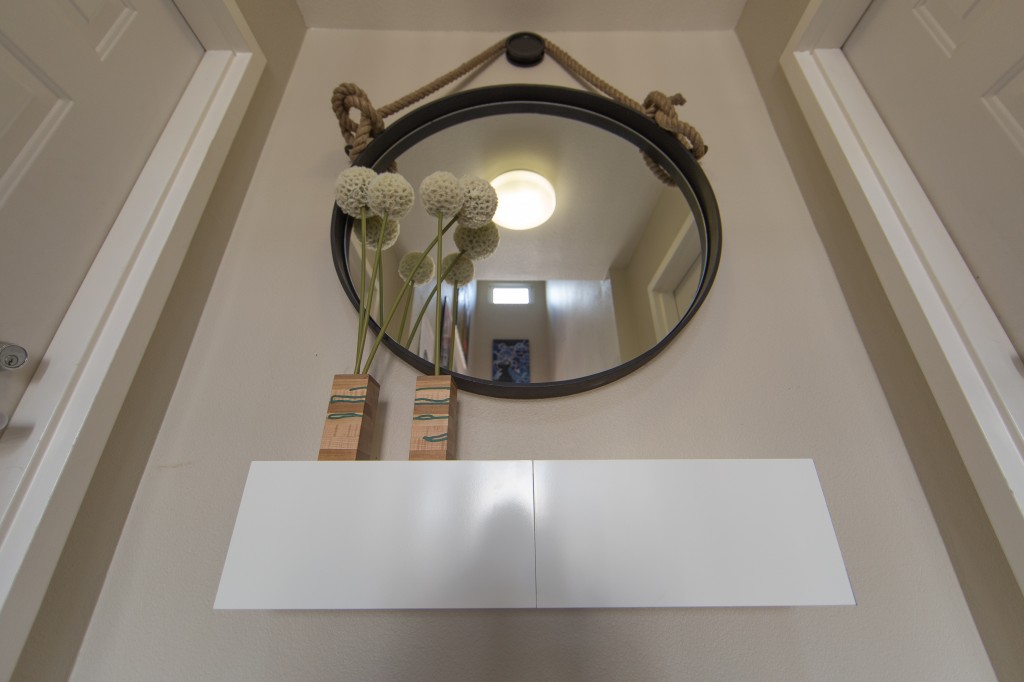 The Video
And finally here's a video of the place. Sorry it's at the bottom of this long-ass page.